Sekiyo Sensei Recognized as a Zen Master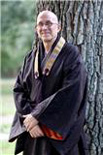 Mims, Florida – March 23, 2013. Volusia Buddhist Fellowship, a nonsectarian Buddhist organization based in DeLand, is pleased to announce its dharma teacher, Rev. Morris Sekiyo Sullivan, was recognized this weekend as a Zen Master during a special ceremony at White Sands Buddhist Center, Mims.
At the end of a one-day meditation retreat for English speakers, Rev. Sullivan received dharma transmission from Ven. Khai Thien, abbot of White Sands Buddhist Center. The ceremony recognizes him as Zen Master in the Rinzai Zen Lam Te Chuc Thanh Dharma Lineage. He also received a new lineage name, Phap Huong Nhat.
The Rinzai school of Zen Buddhism traces its roots back to the Chinese Linji school, which was established around 900 A.D. during the Tang dynasty and came to prominence during the Song dynasty. It became Rinzai when it entered Japan. Ven. Thien's teacher, Zen Master Chon Trung, brought Rinzai to Vietnam and was the 40th generation in the lineage. Sullivan now takes his place as a 42nd generation member of the lineage.
Rev. Sullivan is a former Theravada monk in the Thai Dhammayut order and received his Sensei (dharma teacher/minister) credential from Bright Dawn Center for Oneness Buddhism in Coarsegold, California in 2010. Along with regular Volusia Buddhist Fellowship meetings, he leads monthly meetings in Palm Coast, New Smyrna Beach and Daytona Beach. He also meets weekly with Buddhist inmates at Tomoka Correctional Institution.
His association with White Sands Buddhist Center and Ven. Thien began approximately two years ago, when they both at a special event in Kissimmee. The two quickly became spiritual friends and Sullivan began participating in services at White Sands. This ceremony recognizes Sullivan officially as Thien's dharma heir and makes it more feasible for him to regularly play an active role in programs at White Sands.
Rev. Sullivan continues to lead Volusia Buddhist Fellowship meetings. The group meets every Wednesday at 7 p.m. at the First Unitarian Universalist Church, 116 S. Clara Ave., DeLand and on the last Sunday of each month. Sunday meetings begin at 5 p.m. and are followed by a social hour with tea and snacks beginning at 6.
Each meeting includes a brief dharma talk (presentation of the Buddha's teachings), a short chanting service and either guided or silent meditation. Meetings are free and open to the public.
For more information, contact Volusia Buddhist Fellowship at volusiabuddhist@gmail.com or by phone at (386) 738-3715.